Mike Jones - Graphic Arts Manager

Mike graduated from Cal State University San Bernardino with a Bachelors degree in Art/Graphic Design and has received awards from the San Bernardino Art Association. For the last nine years, Mike has been a dedicated creative team member, taking on all challenges, embracing all things creative and bringing a sense of fun to the work place.

Mike is an avid musician who enjoys writing and recording music, and is self-taught on the guitar and other instruments. Personal interests include music, art, attending sporting events, collecting Hockey Jerseys and spending time with friends and family.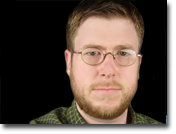 Contact Mike

Click Here to visit his official Can of Beans web site.